Calendar
Start whenever you want
The intensive PCE (Specific Competency Exams) course is perfect for those students who don't live in Valencia but are interested in studying with us. Our course is compatible with mobile phone, tablet and computer or laptop.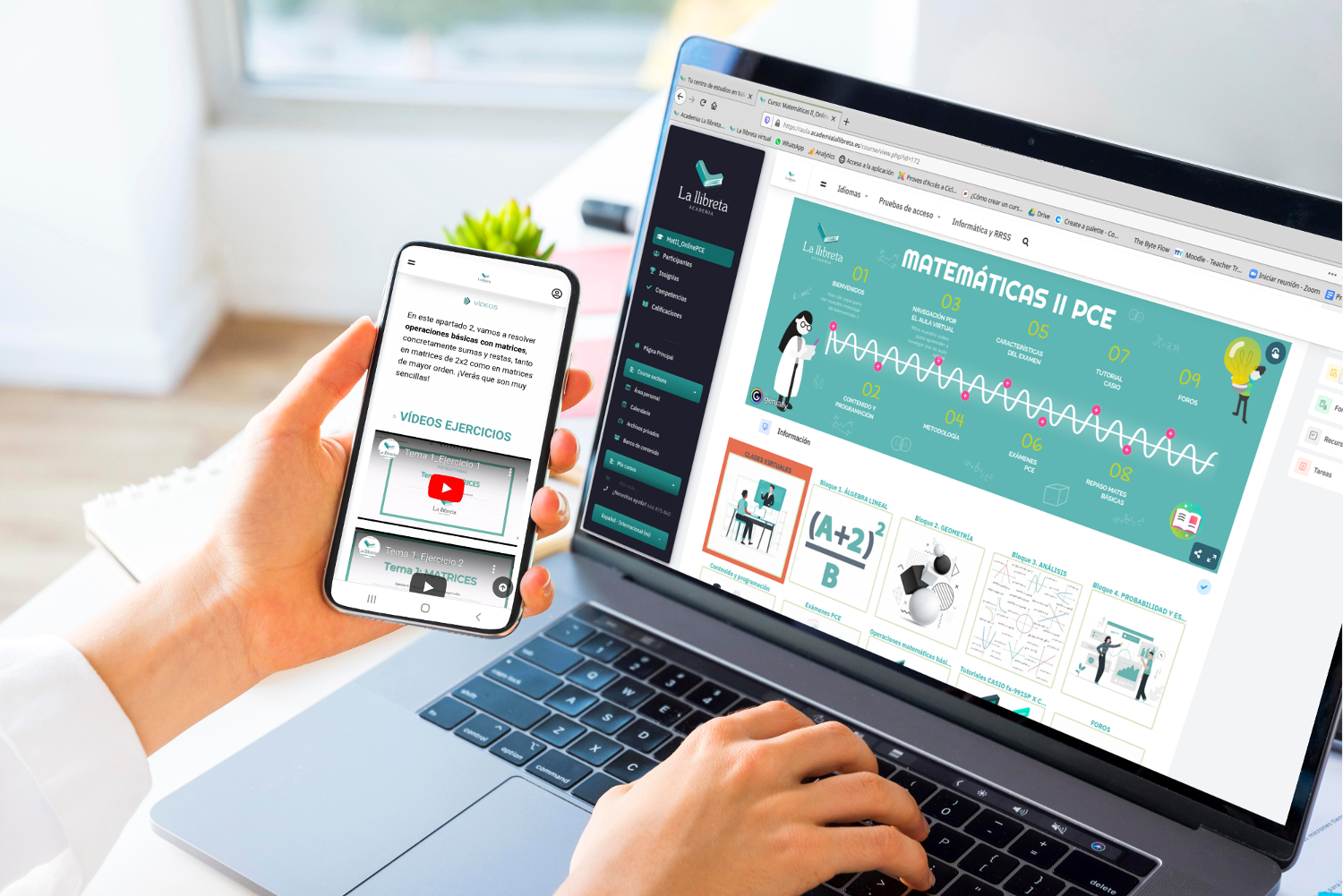 PCE online course content
Downloadable notes (pdf format)
Interactive book with easy in-document navigation
Tutorial videos with theory and practice and sample tests.
Self – checking exercises with a feedback mechanism in order to get a deeper understanding.
Past paper with answer key
External links to expand your knowledge.
Discussion forums
Chance to send tasks for correction and live sessions in order to solve possible doubts.
Our list of available subjects:
CCSS Mathematics
Mathematics II
Biology
Chemistry
Physics
Technical drawing
Geography
Economy
Philosophy
Foundations of art II
History of art
English
Spanish language and literature
You can request a demo of our online PCE courses. Write to us and we will give you the keys.
What subjects should I choose?
The PCE (Specific Competency Exams) are exams carried out by UNED. In order to take these exams, you have to choose among 4 to 6 subjects. We recommend you to choose 4 subjects. To choose correctly follow these steps:
Choose the university degree you want to take.
Look at the weighting chart and write down the subjects whose weight is 0.2.
We recommend choosing at least 3 out of 4 of the subjects whose weight is 0.2.
If you have any questions contact us.
FREQUENTLY ASKED QUESTIONS
Offer available from 30/06/21
Online classes
20€/ 50min.
Discount for eight 50 minute classes: 144€ (18€/class). It expires after 2 months.
We are happy to answer any of your questions
Contact us with any questions you may have either by phone, email or by filling out the contact form. If you want, you can even come and visit us.
Contact
info@academialallibreta.es
Call us
0034 96 006 99 34 ó 0034 666 875 860
Office hours
From Monday to Thursday from 9:00 AM to 01:00PM and from 4:00 PM to 08:00 PM. Friday only mornings.