Our team
La llibreta is made of people, who together, shape the educational project we dream of
Academia La Llibreta was born in 2015 thanks to Eli and Belén, two friends with a common passion: TEACHING. They want to guide you in your own learning, so that you can discover it, and internalise it. "We wanted to create a perfect environment where you can feel at ease and at home".
Our Llibreta follows another joint project, from which we learned a lot; from difficult moments and beautiful moments, from ideas, dreams and many hours of work. We are delighted to share our space with you, to learn and nourish ourselves together through the beautiful teaching-learning process. We are attentive, awake and continually educating ourselves.
Academia La Llibreta is not just the two of us. We are fortunate to have a fantastic network of collaborators and friends helping us and making it possible.
Give us a try – you won't be disappointed!
We are continually educating ourselves

100%

100%

We always do our best

100%

100%

We can adapt to your needs

100%

100%

We love what we do

100%

100%
La Llibreta is made up of a team of multidisciplinary professionals who want to listen to you and give you the best possible training. We love education and we are highly qualified. We are switched on, and always educating ourselves. We are a small family with a big heart. You will feel at home.
Management and coordination team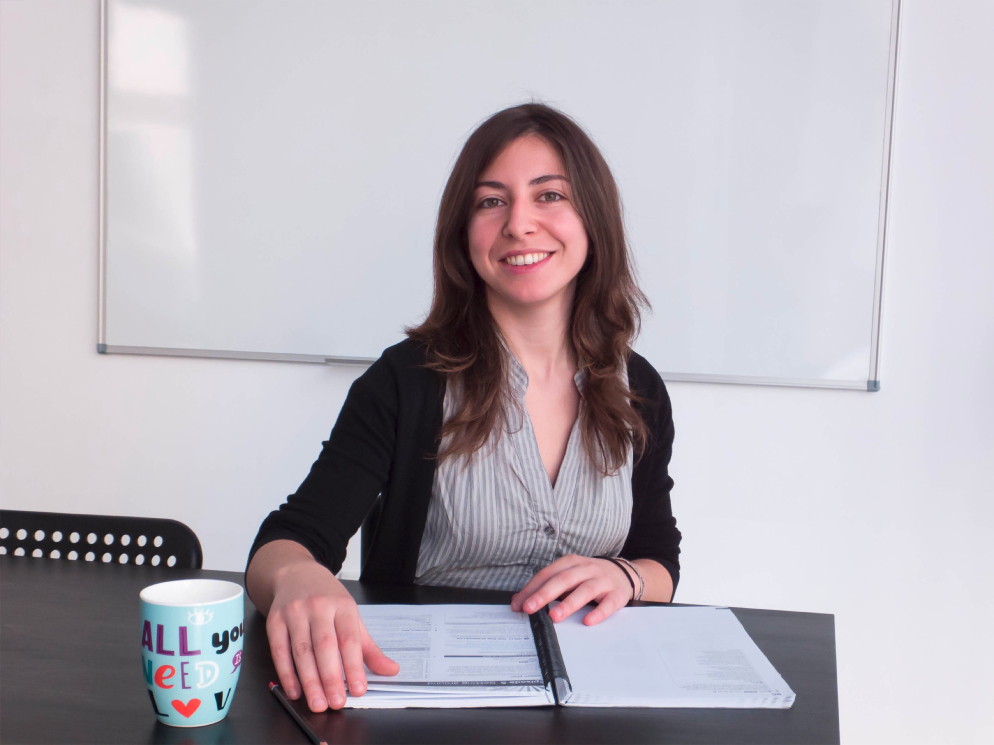 Elisa Arceri
English Teacher and Co-Director
I am passionate about teaching. It allows me to grow personally while teaching others. My experience has shown me that we can all learn if we find the right motivation and the right guides. I am at your side to motivate and guide you in your learning; to get to know you and help you gain autonomy and security, so you believe in yourself and can fly on your own.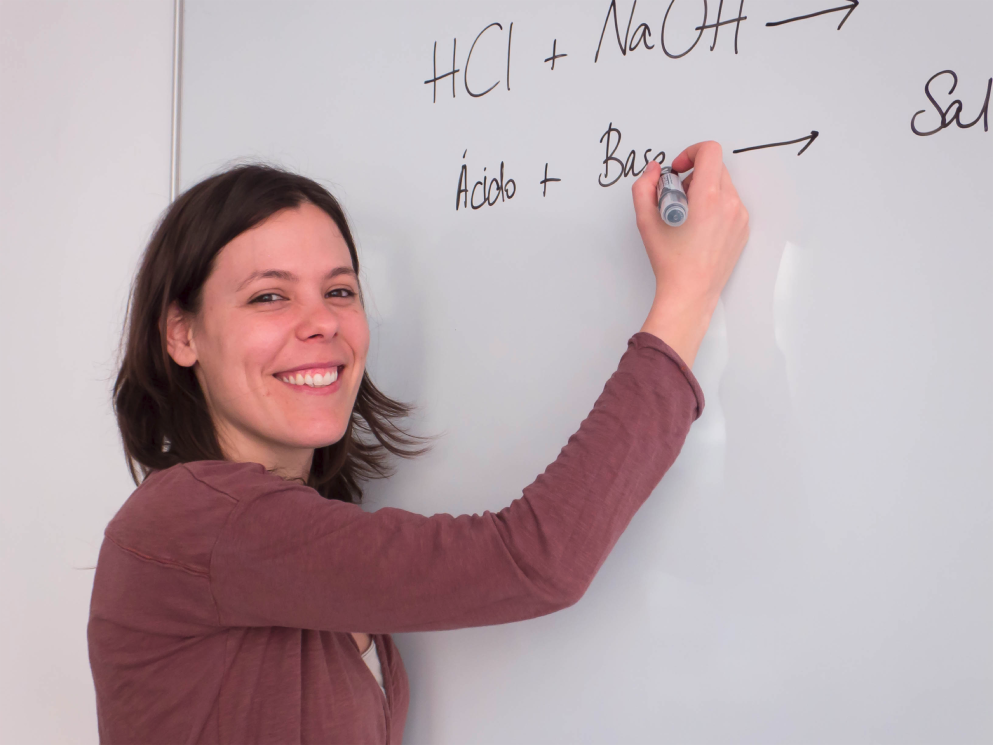 Belén Barona Matut
Science Teacher and Co-Director
I am passionate about my work. My main goal in the classroom is to create an environment of support and respect. I consider communication to be essential for good understanding between people. This, and my talent for encouraging and motivating students, will instill a love of the world of language.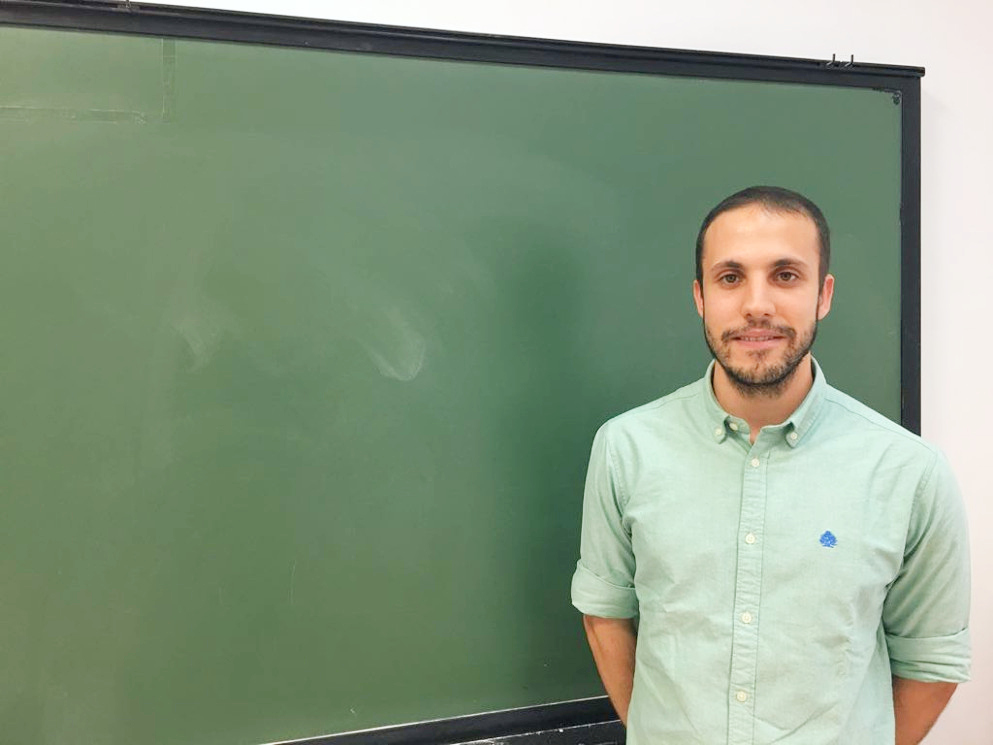 Ricardo Hernández
Teacher and Humanities Coordinator
Hello! I'm Ricardo, born and raised in the Camp del Túria. In Valencia, I obtained a degree in a subject I am passionate about: Spanish Philology. I love the language, the words, how they work, how they interrelate with each other, and how they shape people's way of being and their culture.
When I finished my studies, I decided to spend some time abroad teaching Spanish. When I saw how the students were learning, growing, and above all, enjoying themselves, it awakened in me a strong vocation for teaching.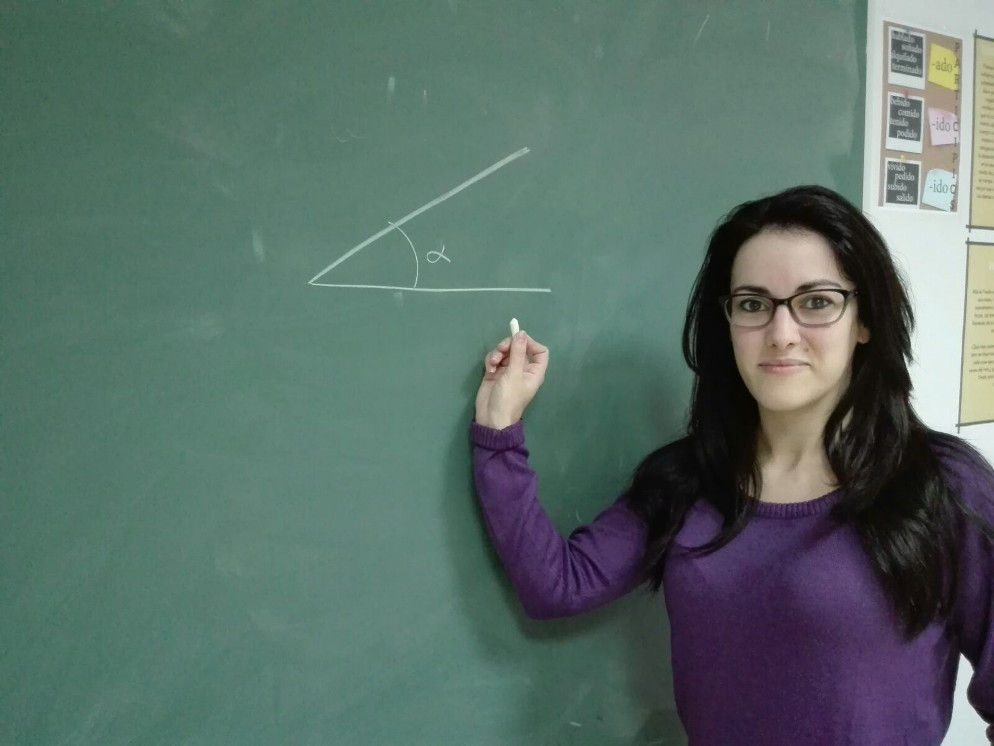 Rosa García Ferrando
Science teacher and Ciencies Coordinator
I'm Rosa, from Valencia. Since childhood I have been passionate about technological sciences, hence why I studied Technical Engineering. When I was studying at university I started teaching to cover my expenses, and that's when I discovered my other great passion: teaching. I loved it so much that I decided to study to obtain a master's in Education and dedicate myself 100% to teaching. I am currently doing a PhD in Education.
I love studying and educating myself. I try to convey that passion for science and education to my students. I love to get deeply involved in the learning process of my students and tailor the classes to their needs in order to guide them, encourage them and awaken their passion for learning and science!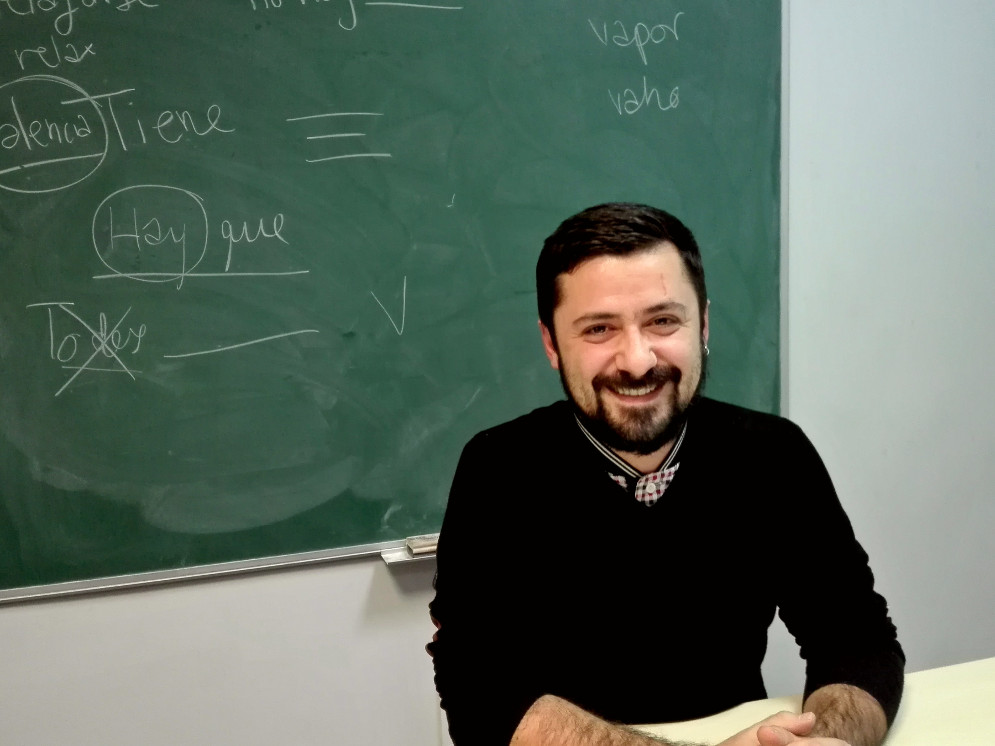 Moisés Gutiérrez
E/LE teacher and Coordinator
Ever since I started learning English in elementary school, I knew that languages were my thing. Later, I decided to study Slavic Philology because the more conventional languages didn't live up to my expectations. In the end I majored in Polish, which allowed me to live and work in Poland for seven years. There, I worked in a Spanish bilingual high school and thanks to that, I managed to develop my teaching skills, a vocation that I had wanted since I was in high school.
I am lucky to be able to teach my language and my culture. In my classes I enjoy talking about subjects ranging from the most interesting Spanish customs for foreigners, to the most intricate aspects of Spanish grammar. What I like most about my job is seeing students I have known from the beginning, being able to communicate perfectly, without any help, and the smiles that it puts on their faces.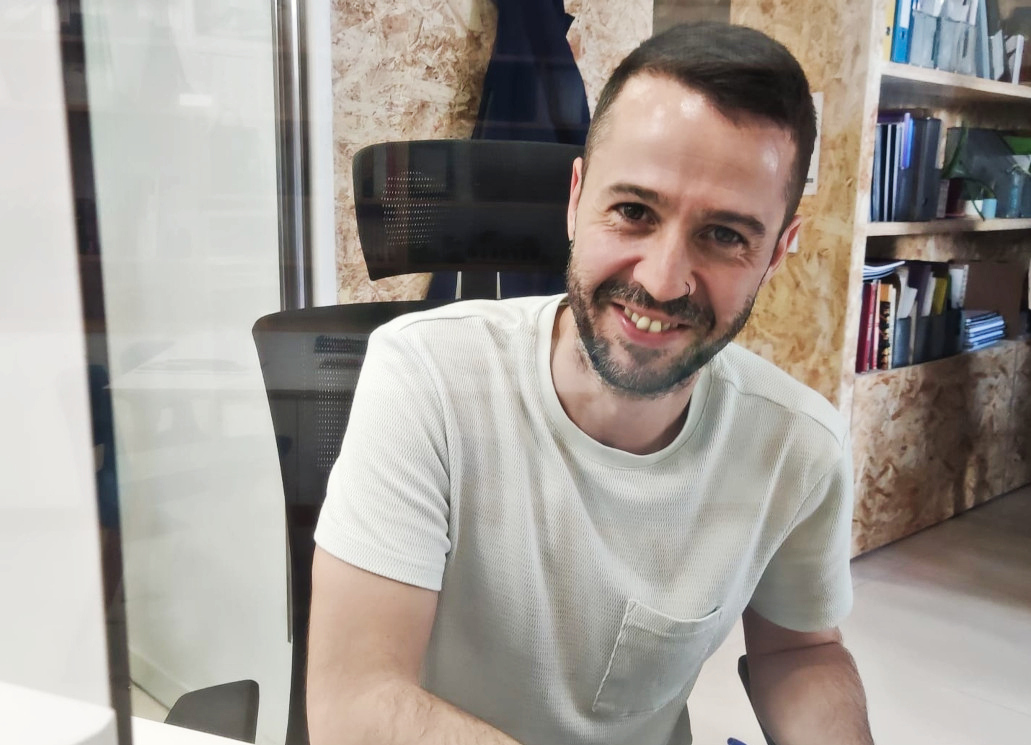 Juanjo Vila Reyes
Administrator
Originally from Madrid, Valencian by adoption.
After a few professional laps, I ended up working in a Spanish school for foreigners and since then I have been very closely linked to the world of teaching, always from this side of the desk, supporting and helping as much as possible the students.
I like to think of myself as a responsible and hard-working person, with a sense of humor and a desire to bring my experience and good vibes wherever I am.
Here I am if you have any questions, I will try to help you as best I can 🙂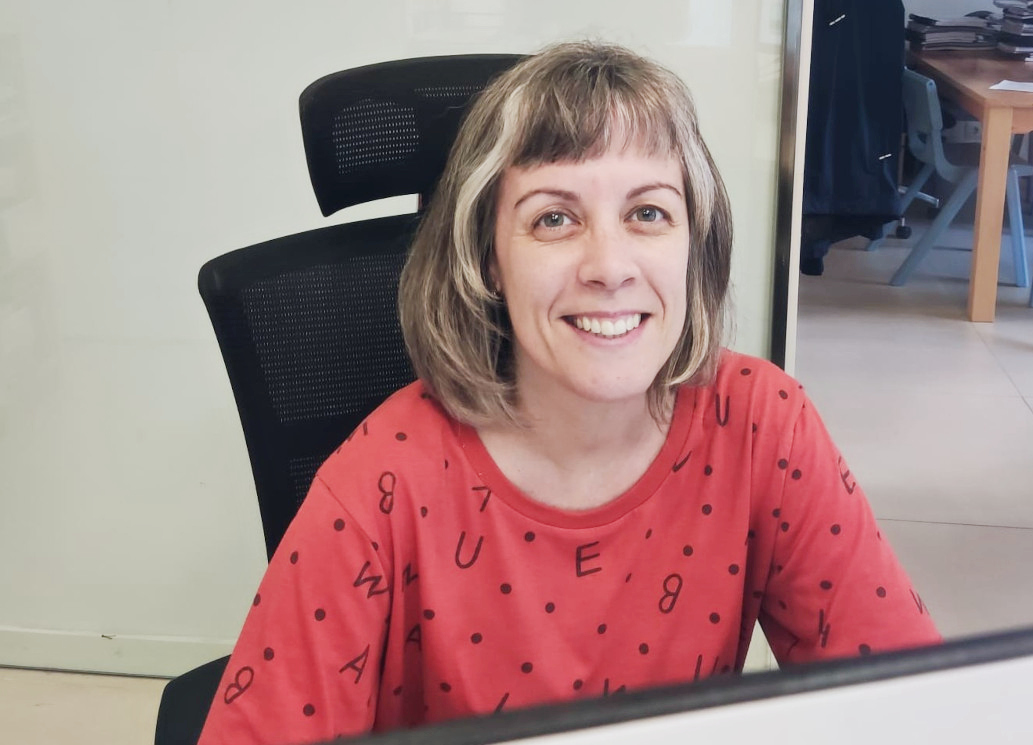 Núria Martínez Fernández
Administrator
I am Nuria, from Valencia, and as long as I remember, I've always been a curious person. If anything has taught me my art restoration training is patience, teamwork, versatility and the ability to find solutions. Although over time I have realized that they are part of me and my way of understanding the world.
I have been linked to the world of teaching for years and have always liked my listening and guiding role towards the students.
That is why, from the secretariat I will be happy to assist you, advise you and see how you achieve your goals.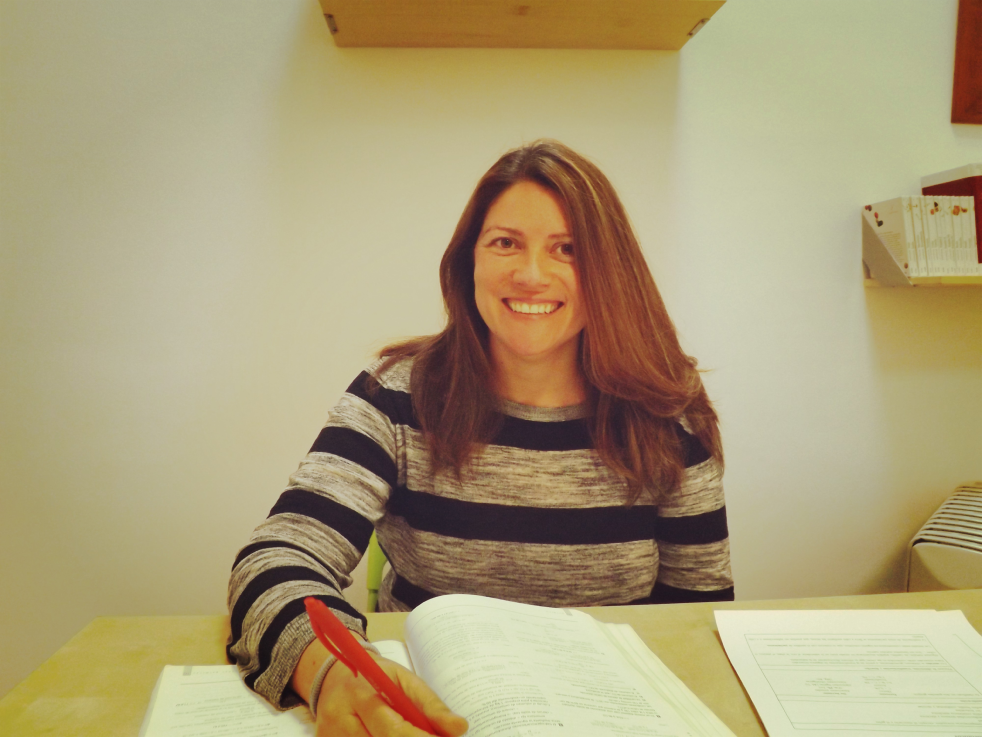 Elena Bellver Sanchis
Science teacher
I actually started teaching by chance, as a way to pay my bills while studying Chemical Engineering, and this experience became a necessity. That is why, although I have worked in other fields, I have always managed to combine any other job I had with teaching.
I enjoy guiding and encouraging those who want to learn, excel and educate. My greatest motivation is the good results achieved by my students. That is the best reward a teacher could wish for.
With more than 15 years' experience teaching mathematics, physics and chemistry (privately and in various study centers), I want to help you and motivate you to achieve your goals.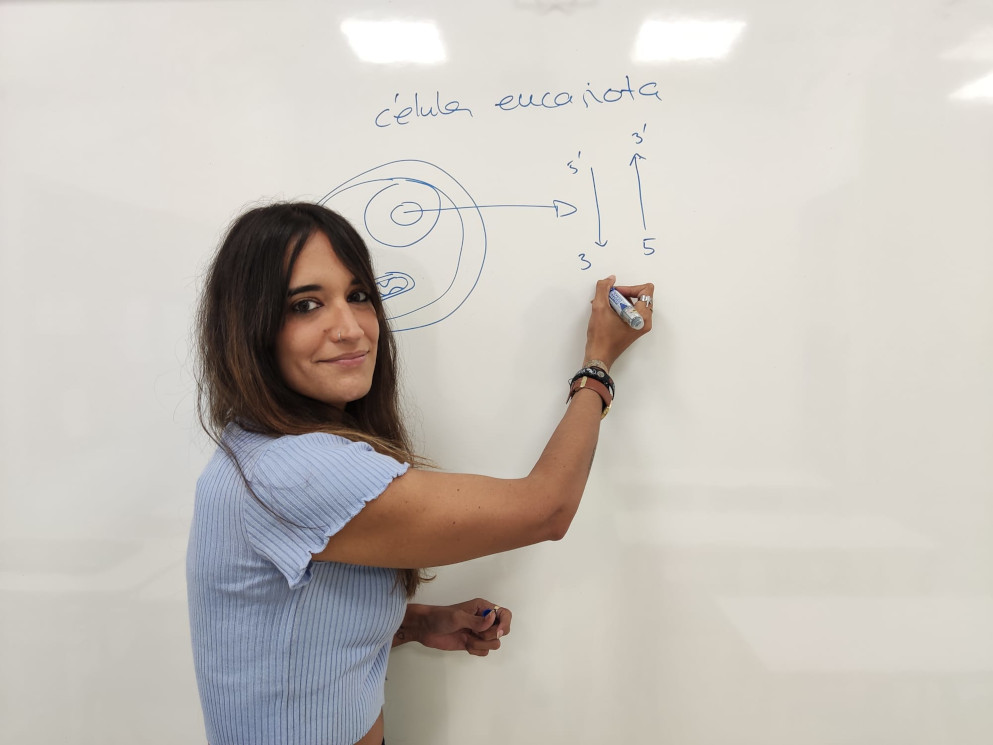 Belén Lázaro Calatayud
Science teacher
Originally from Valencia, always curious and traveler, since I was a child I have been asking myself "the why of things". That motivation to know the answers and advance in the understanding of life, led me to the branch of Science and, specifically, to Biology. Science can explain (almost) everything about the world and universe around us!
I love to transmit scientific knowledge in everyday and simple language that can be applied to our daily routine. For me is very motivating being able to awake this passion for learning in both kids and adults. In a respectful environment, active listening and creativity, my motto is: never stop learning!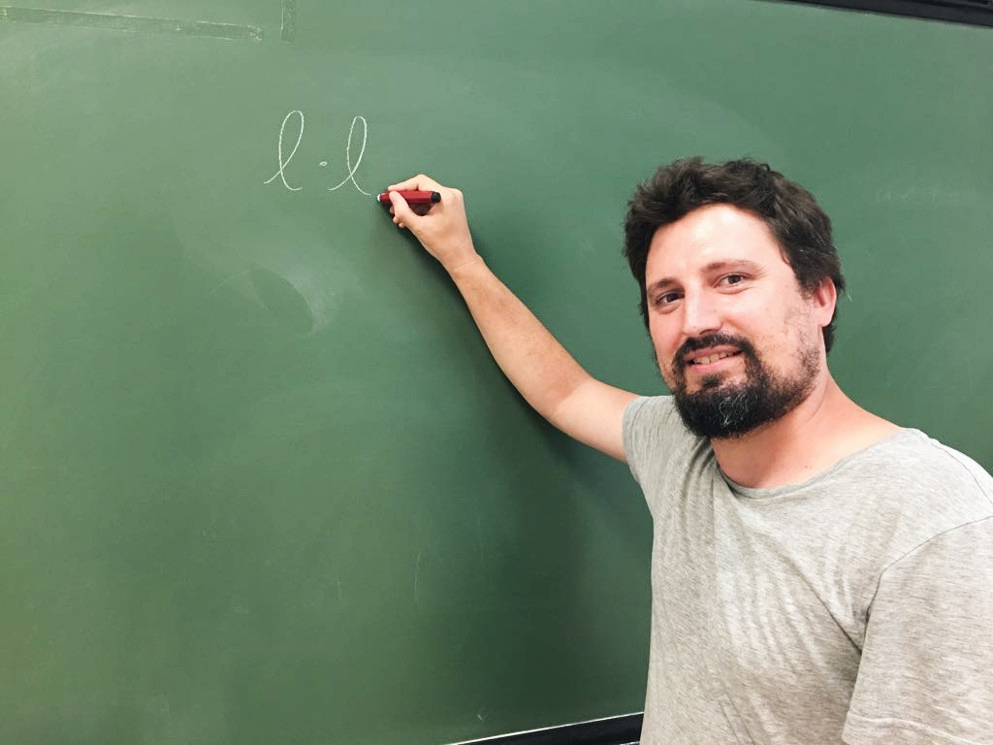 Pau Mata i Ortells
Geography Teacher
I was born in Vila-real, but since I started my studies, many years ago, I have been living in Valencia, a city I instantly fell in love with. I have always been passionate about the knowledge of other cultures and times, and that's why I decided to graduate in Geography and History. Thanks to the Erasmus project, I lived for some time in Lyon. Living there was an amazing experience, and I was also able to learn different ways of teaching both History and Geography.
In my classes I try to transmit my passion for these subjects and I try to do that by involving my students because I can't cope with the kind of classes where the teacher is the only one speaking and the students keep quiet and only take notes.
I strongly believe that History can teach us a lot about our current times and that Geography is a powerful tool that students can use to be critical thinkers, especially towards the world around us.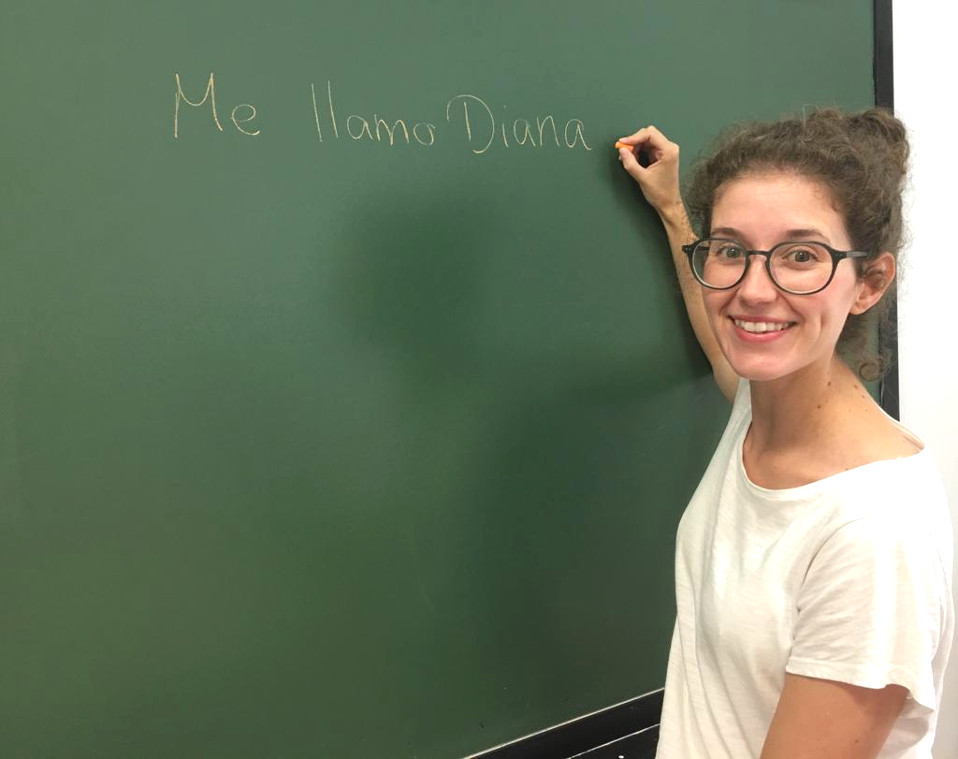 Diana Sanz
E/LE teacher
I'm Diana. I was born and raised in L'Horta Nord, but after finishing studying Hispanic Philology and training in E/LE, I headed out into the world in search of adventure, which I found! In Switzerland and Australia, I spent five years doing what I hoped to continue doing: teaching. There, I organised some literature workshops and taught Spanish to children, adolescents, adults and octogenarians. I'm now continuing my adventure in Valencia, where I just finished a master's degree in Education and where I work to give my students the tools they need for social integration. In my classes I use a lot of visual materials, games and music. Tolerance, socialisation and integration are essential values, and that is why I strongly believe in cooperative learning. In the classroom, everyone has something to contribute, regardless of their abilities or circumstances. Teaching Spanish makes me happy and I try to radiate that happiness to my students, from whom I never stop learning.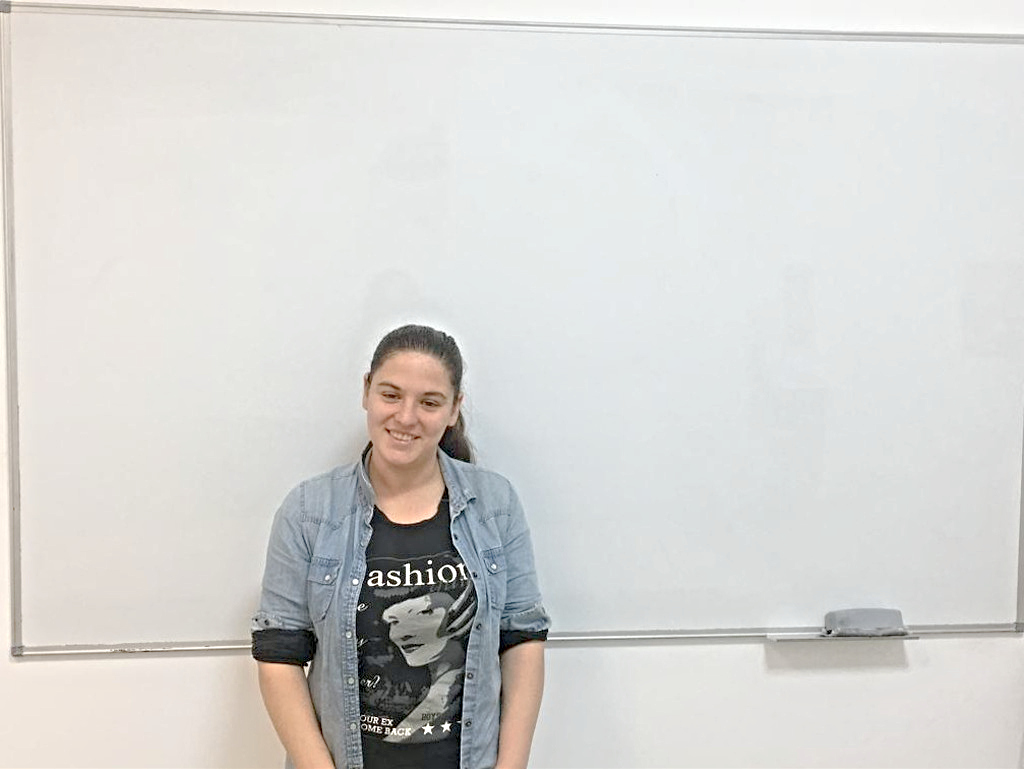 Neus Rambla
Latin Teacher
My name is Neus. Since I was very young, I have always liked classical mythology. My aunt used to tell me myths while teaching me to read and also, without realising it, she taught me real values.
I studied Classical Philology and a Certificate of Higher Education in Social Integration, which helped me discover my other great passion: the classroom and all that it involves. During the internship I saw that there are very bright people in a system that does not allow them to move forward, and that what they need is a push, or simply the words "you can do it".
I am a humanities teacher because it is what I can teach, but I am also a student of the individual greatness that each person has, when they are interested in learning new things. For me, education is a very powerful weapon that endures through time, and it is handed down from generation to generation, to foster the change that everyone needs.
Per aspera ad astra "through hardships to the stars".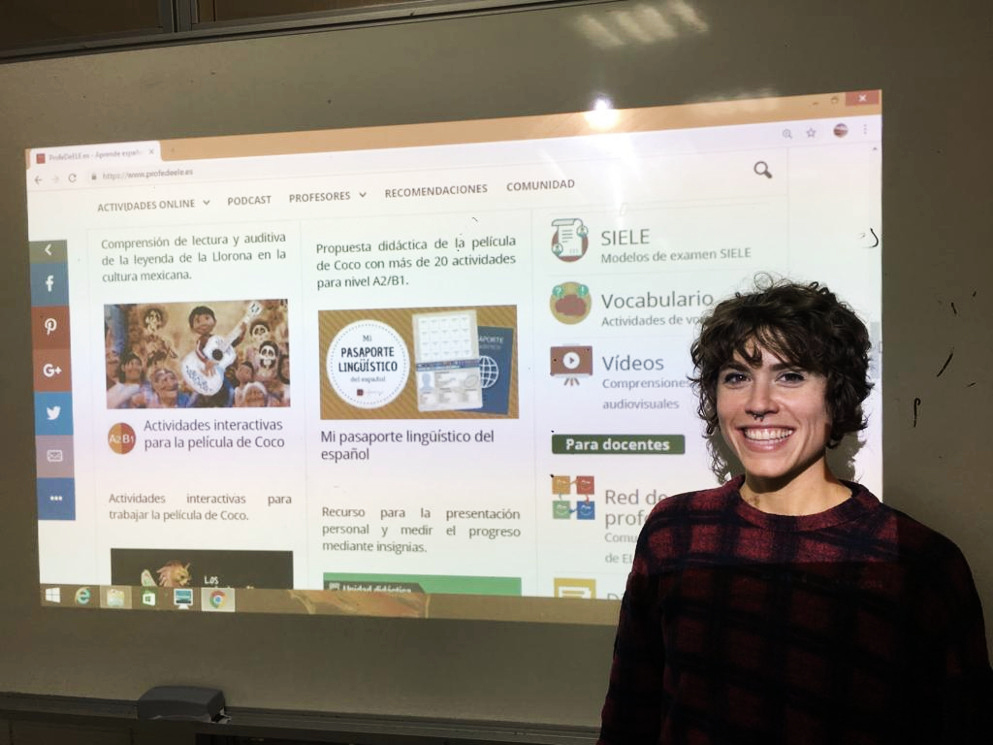 Ángela Bosch
E/LE and English teacher
My name is Angela and I'm from Sollana, a town near Valencia. I started studying Translation, although in the end I majored in English Studies and Italian. I have always been passionate about languages, especially English. That's why there was a time when I was going back and forth from place to place: working in Bristol (England), studying in Glasgow (Scotland) and living in the United States.
Since I finished my studies I have followed my passion to teach English. However, a while ago I was given the opportunity to work as a Spanish teacher for foreigners, and since then I have not stopped. For me, being able to teach my language and culture has been an adventure, especially because while teaching my students, I always learn from them too.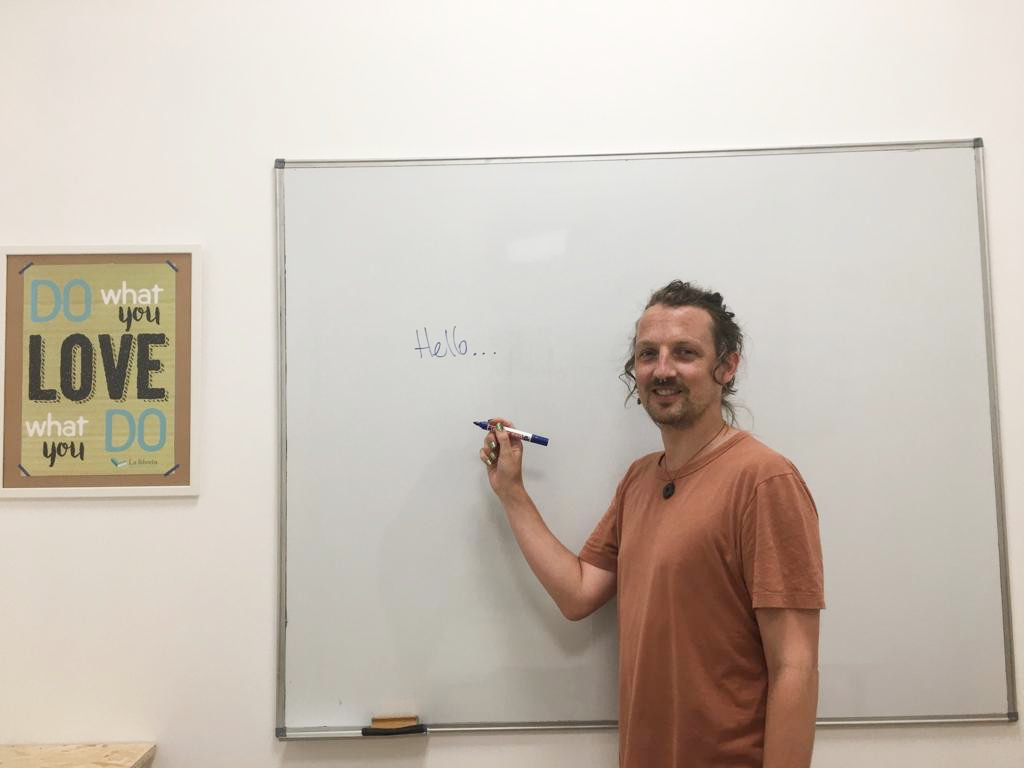 Thom Harward
English teacher
My name is Thom, and I'm an English teacher. I'm originally from a little town in the Uk, but now I live in Valencia. Unfortunately, I don't speak Valencian language, but I love it, and I try to learn every time a bit more. 
My path as a teacher began with an interest in different languages, I love them! I speak Cymraeg, the Welsh language, which I learned while living there, and Spanish.
My strength as a teacher is grammar (something I am passionate about). I am aware of the most common grammatical issues and errors between English and Spanish, and I use this knowledge and experience to teach and give grammatical tips and tricks that enable students to learn the language.
There is no greater pleasure than to see how students are able to express themselves after having finally understood something that was difficult for them.
To be a good teacher, you have to be a good student, and that's something I continue to be with pride.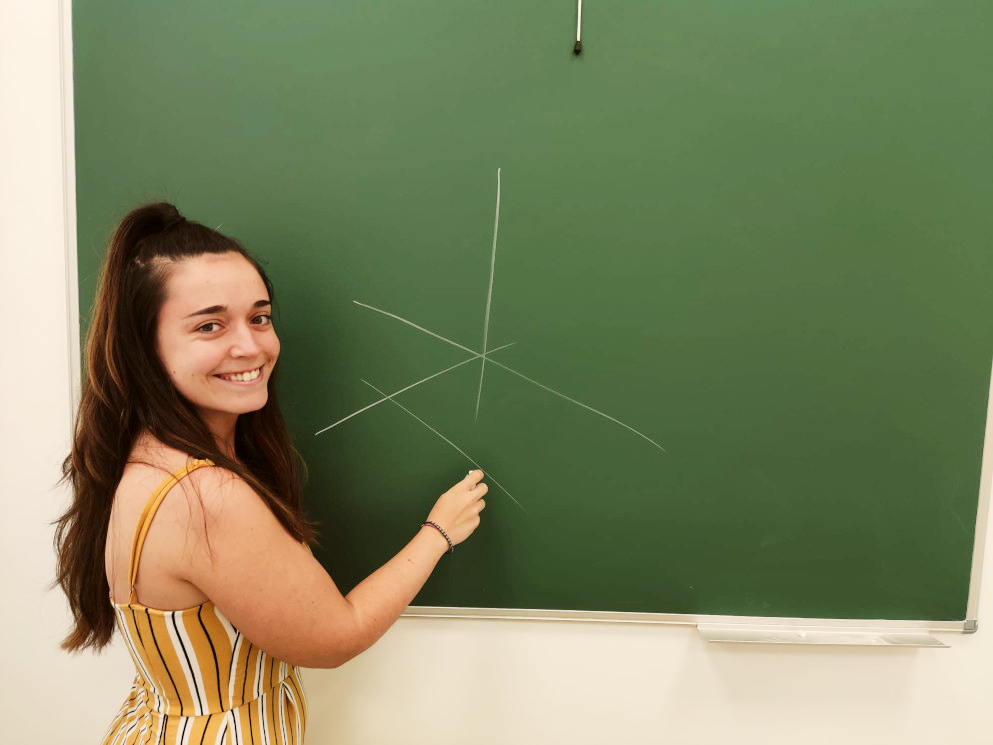 Vanesa Tórtola
Science teacher
I'm Vanesa. I was born in Iniesta, a town close to Cuenca, and some years ago I came to Valencia to study Engineering in Industrial Design. I knew from the first moment that being an engineer was not my destiny, but it was all that knowledge that was transmitted to me that allowed me to dedicate myself to the greatest of my passions: teaching.
I combined my studies with teaching, absorbing the best of each, and I managed to become an engineer and get a master's degree in education.
I spent a year traveling around Europe where I discovered my other passion, graphic design, which I try to improve day by day.
I continuously keep learning to teach classes in an active way, making science a fun, dynamic and entertaining subject. My goal is to make the seemingly difficult, something simple and bearable without forgetting the main goals: to make students learn and to learn from them.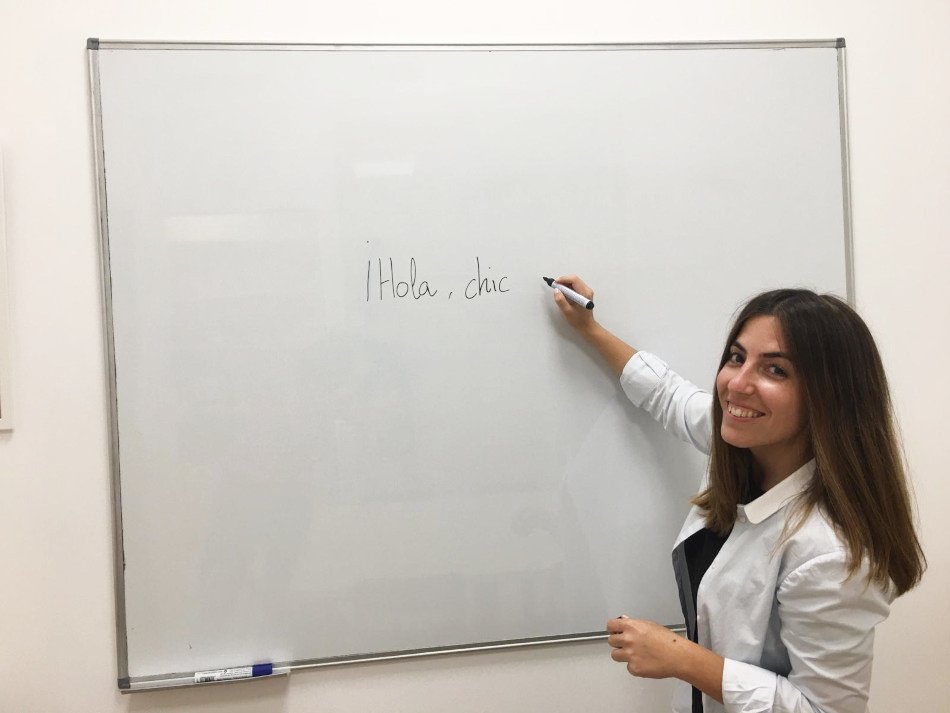 Sarah Martínez
E/LE teacher
Hi, All! My name is Sarah and I teach Spanish as a foreign language. At university, I studied History and I got a master's degree in Hispanic Studies, a specific training in ELE, and I am an official examiner for the Cervantes Institute.
How did I get here? My curiosity and my constant desire to learn led me in 2015 to a classroom, where I discovered that teaching is a constant learning process and, therefore, I could not be in a better place.
Learning a new language is a journey, a real adventure. A new way of understanding the world opens up to us and, with it, endless opportunities. We not only learn grammar or vocabulary, but also how the speakers of a language feel, think and live. With my students, I travel the world and I assist them in learning what I am passionate about: the Spanish language and culture.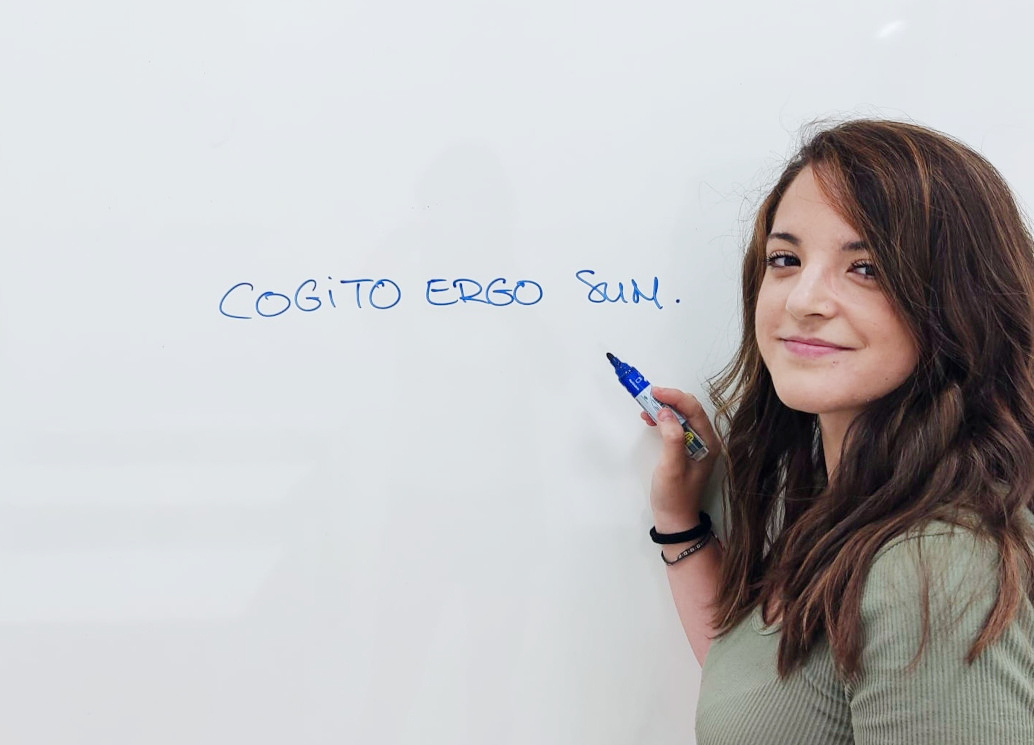 Cristina Sánchez
Teacher of letters
I am Cris, born and raised in L'Horta Nord de València. I am currently a teacher of History of Philosophy, but I also teach Art History and Spanish Language.
I got a degree in History with a master's degree in Archaeology from the University of Valencia. Since I was a child I have always wanted to study history and I ended up digging it up, taking care of it, getting dirty and working underground (literally).
The beauty of this discipline is that you end up dealing with multiple subjects, and it was at the University where I fell in love with philosophy, art and, above all, teaching. While studying at the University, I was a private tutor and that is where I realized that teaching, transmitting values and passion for letters to my students was gradually becoming my vocation.
In my classes I try to create an environment of close and mutual respect, a space where they can discuss without pressure with the necessary tools so that interaction and learning is innovative and enjoyable.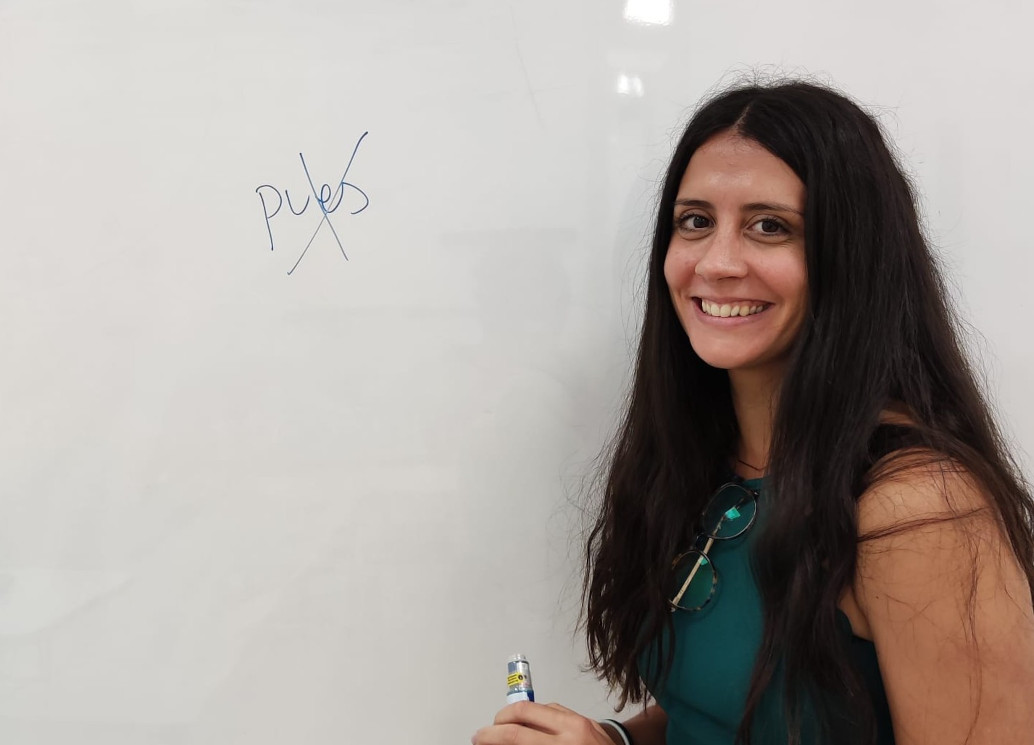 Lorena Gómez
Valencian teacher
Hi, all! I'm Lorena 🙂
I was born in Liria. I have always spoken Valencian, and it is the language and culture that I like to transmit the most, since it seems to me a small treasure that must be taken care of.
I studied Hispanic Philology and Humanities, as well as the Master's Degree in Secondary School Training and the Diploma de Mestre de Valencià. I have always loved languages and I try to convey that passion to my students. Furthermore, I have worked as a language teacher in London, Catalonia and here in Valencia.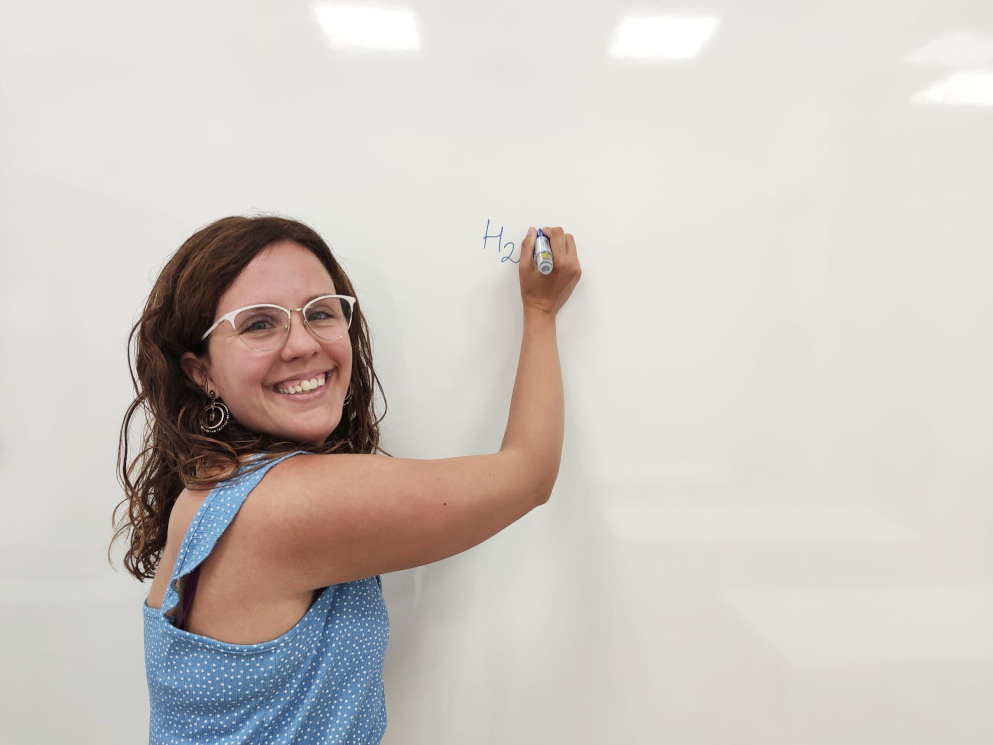 Cristina Jiménez
Science teacher
I was very young when I knew that chemistry was my vocation. So much so that I got a degree in chemistry. I started teaching during the University to earn some money, and that's when I discovered how satisfying it is to be able to help others with what you know. I have always felt the need to live close to science, and for the last few years also close to teaching.
In the classroom, I try to create an atmosphere of trust so that everyone can ask questions. In addition, I like students to participate, so the classes can be more enjoyable. At the same time, it's an opportunity for me to observe their possible shortcomings.
What I love most about my profession is that no two days are ever the same. Each class is an opportunity for me to improve as a teacher and the good fortune to learn something new, often from the students. I enjoy transmitting that passion for science, but above all seeing how my students overcome their challenges and achieve their goals – their achievements are the greatest reward for my work!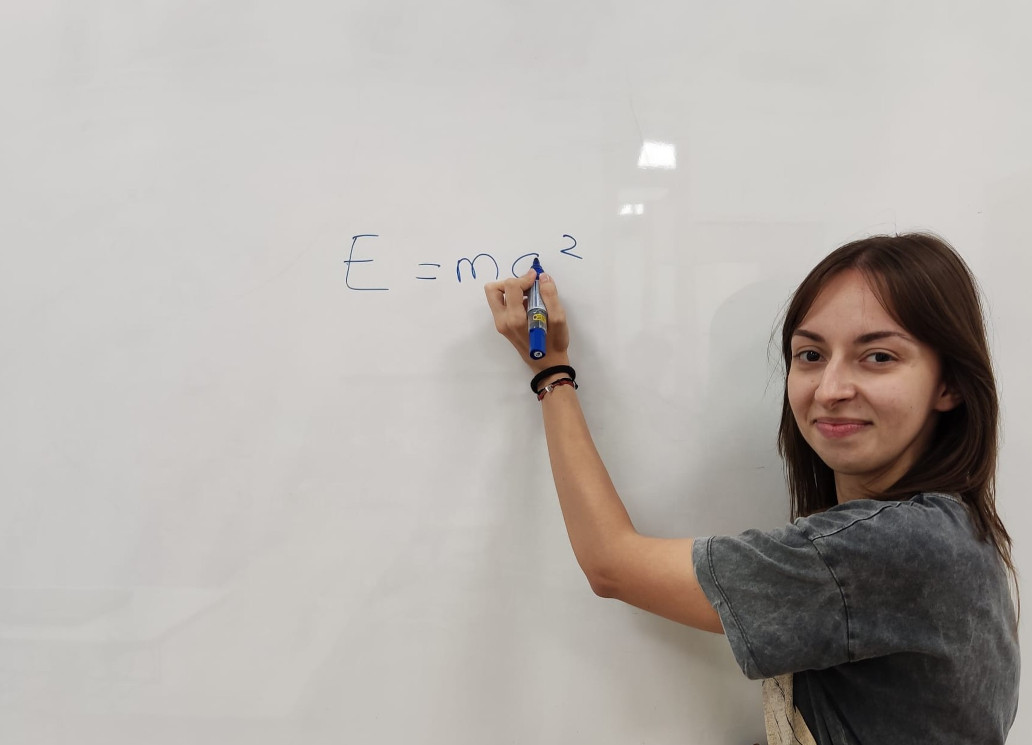 Andrea Esparcia
Science teacher
Hi! I'm Andrea, and my passion for science started since I was a little girl, playing at being a researcher. That hobby grew to such an extent that I decided to study Physics (I always need to know the why of things around me) and, in particular, I was fascinated by Medical Physics and all its applications. But, if there is something that has always accompanied me throughout all my studies, it is my passion for teaching, helping my friends and family to understand what they did not know and learning with them.
This led me to start tutoring when I was at the University, and it has become my day-to-day life. I love being able to transmit my knowledge of science to students and enjoy learning with them the wonders science can teach us. There is always something new to learn, and science can be understood and seem much easier if you are taught with dedication and passion, and I can assure you, I have plenty of that.
Each person is a world and I always adapt to their particular needs so that in my classes you learn and enjoy in equal parts. Learning by teaching is the best of my experiences.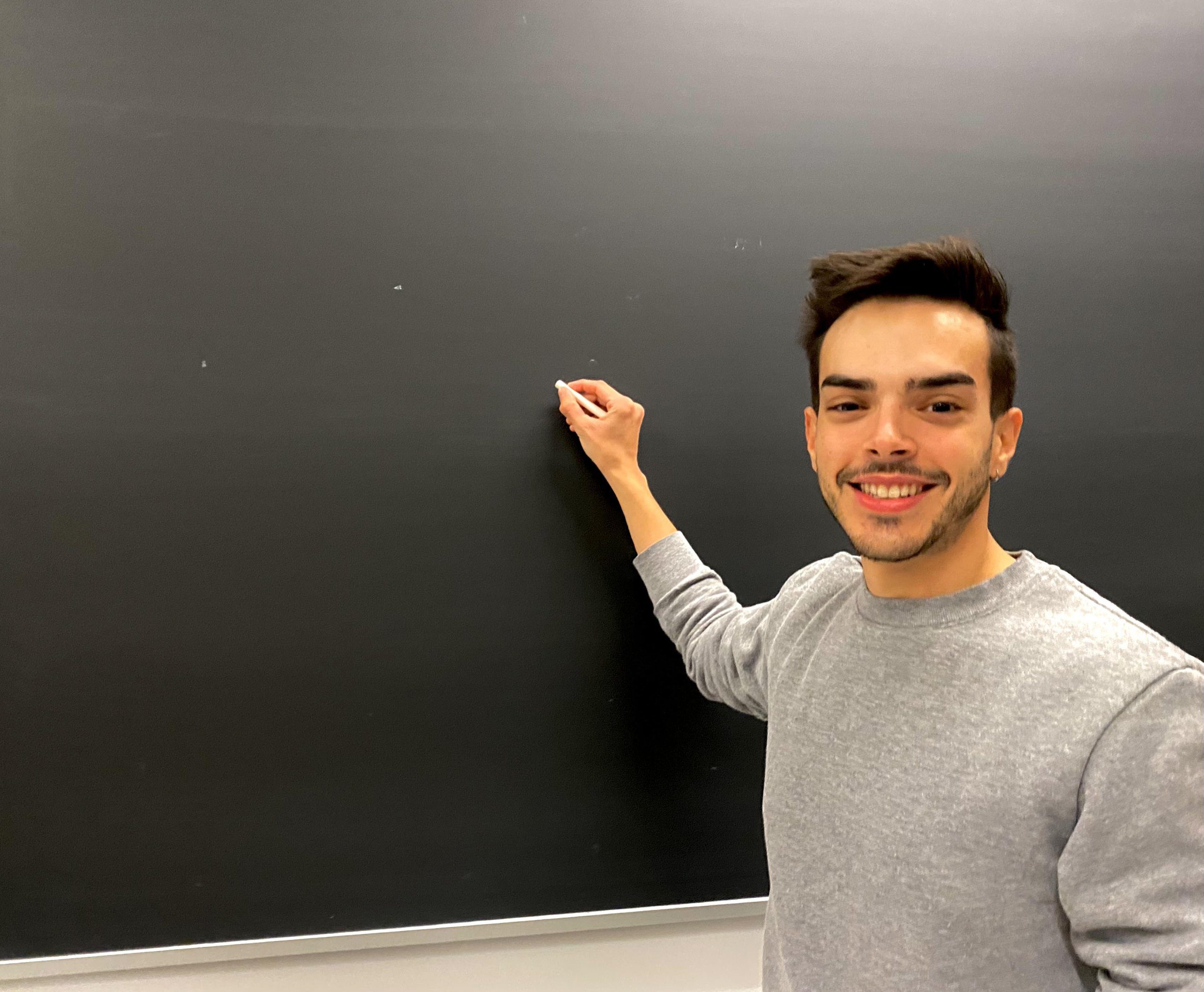 Pedro Martínez Sánchez
Profesor de valenciano
El meu nom és Pedro i soc de del sud, de la terra de les palmeres, les magranes i el Misteri. Tal volta, nàixer en la ciutat que alberga la major obra literària i sacrolírica de la nostra llengua em va fer estimar-la des de petit.
Vaig estudiar magisteri amb la menció d'anglés i el diploma de mestre en valencià. Més tard, em vaig decantar per estudiar investigació educativa i vaig centrar les meues recerques en l'àmbit de la Didàctica General. Després de treballar uns anys com a mestre d'anglés vaig adonar-me que el meu futur havia de passar per la secundària i vaig fer el màster de professorat per a dedicar-me a la docència del valencià.
M'apassionen les llengües i les relacions que entre elles s'estableixen, per això les meues classes busquen aprendre el valencià i relacionar-lo amb les inferències que l'anglés, el castellà o el francés ens permeten. El meu lema sempre és: "les llengües són ponts, no barreres" i prove a demostrar-ho a cada moment. T'hi animes tu també?