What subjects should I take? Which subjects weigh the most?
Many of you call us for answers to these specific questions. For this reason, we have written this post so that you have all the information and consult it as many times as you need. If you still have any doubts, contact us and we will resolve it happily 🙂
What subjects should I take?
Here you have the subject list offered by UNEDassis. To choose these subjects you must take into account the university degree you want to study and the Weighting table of subjects. You have to choose as many subjects that weigh 02 as possible.
Why is better to choose subjects that weigh O.2 in the PCE?
When choosing the subjects, you want to take in PCE (Specific Competency Exam), it is very important to know which subjects weigh the most in the university you want to study (weigh 0.2). Let's take an example for a mixed disciplines (social science) degree: Imagine you want to study Business Administration at the University of Valencia. In the following image you have the subjects and their weight for two very similar degrees offered by different universities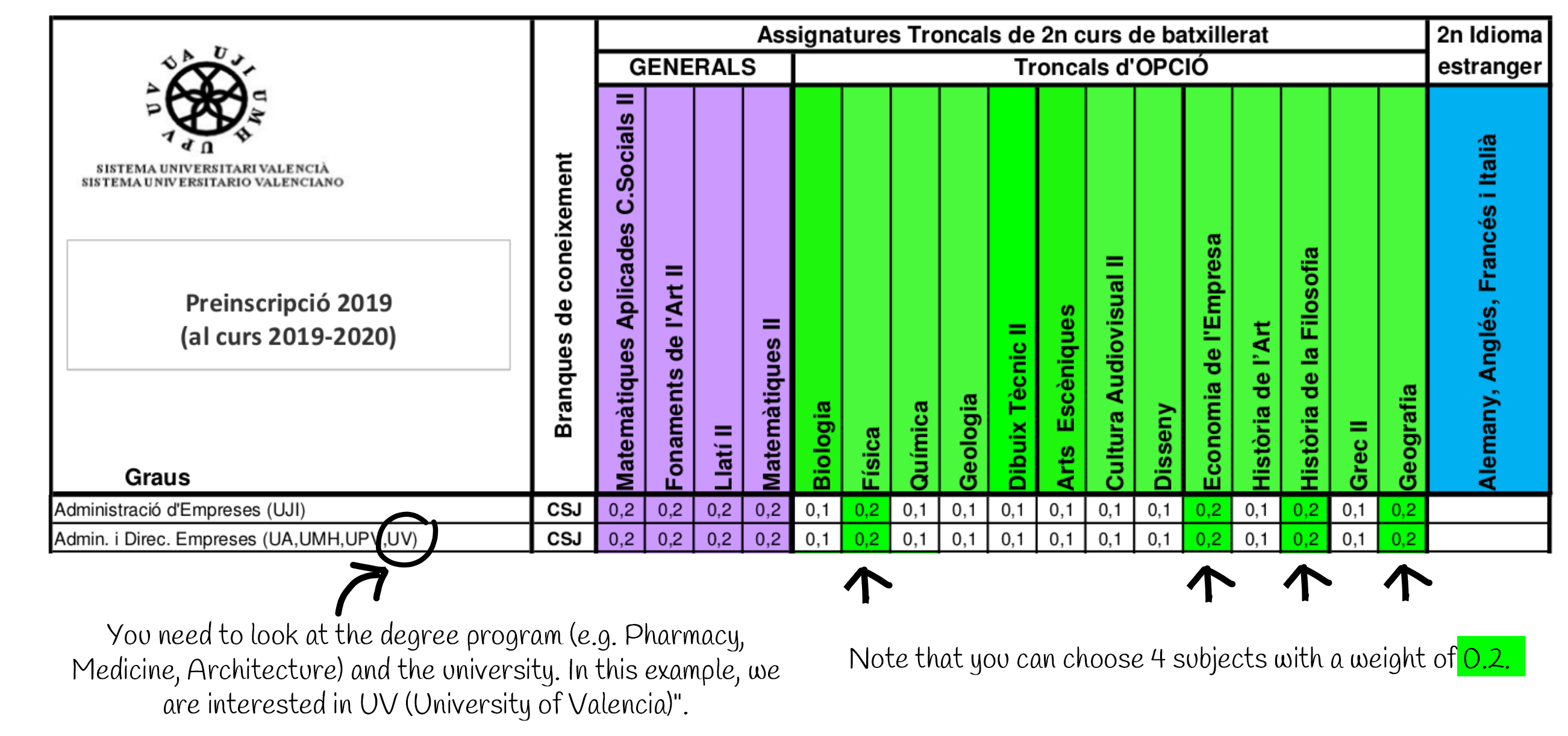 According to this weighting table of subjects,  universities recommend choosing at least 2 subjects that weigh 0. 2 (the more subjects that weigh 0.2 the better, to have more options to raise your score). But remember that at least 2 subjects have to weigh 0.2 Does that mean that I cannot choose the subjects I want? No, it doesn't. You can choose the subjects you wish and the UNEDassis will weigh 0.1 for each subject until 10 (maximum of 10 points). The destination university may give up to 4 additional points depending on their admission criteria but they will take into consideration the score you got from those subjects that weigh 0.2. We have already explained in PCE FAQ post how to calculate the admission score from UNEDAassis. It is explained again here: The score out of 10 is obtained with:
60% –  from the scores obtained on their academic transcript (homologated previously).
40% – from the Specific Competency Exams (taken at the UNED)
Admission score = (0,2 x NMB + 4) + (0,1 x E1) + (0,1 x E2) + (0,1 x E3) + (0,1 x E4) NMB= Mean grade from high school. E= Mean score obtained in each Specific Competency Exams (PCE) The score out of 14 is obtained by the following: The two best-rated subjects are chosen from those weighing 0.2 and multiplied by 0.2. The result is added to the admissions score.
| | | | |
| --- | --- | --- | --- |
| Academic transcript average score      60% | Unedassis 10 points | University 0.2 subject | 14 points |
| PCE exams average score 40% |   | 0.2 subject |   |
For example, a person can take an exam in English, History of Philosophy (0.2), Economics (0.2) and Geography (0.2). When I take the Unedassis exams each subject will be worth 0.1. These four subjects will be 40% of the grade to be added to the Academic transcript score. Once you have obtained the total sum of the exams and Academic transcript (always out of 10 points), the university chooses the two highest that weigh 0.2 and adds them to that previous grade, thus achieving a score of 14 points.
Let's imagine someone has gotten these marks (out of 10):
English: 8
History of Philosophy: 6 (weight 02)
Economics: 9.5 (weight 0.2)
Geography: 8.5 (weight 0.2)
Academic transcript average score: 7
Admission score: (0,2 x 7 + 4) + (0,1 x 8) + (0,1 x 6) + (0,1 x 9.5) + (0,1 x 8.5)= 8,65/10
The highest scores from subject that 0.2 (Economics and Geography) : 9,5 x 0,2 + 8,5 x 0,2= 3.6/4
Admision score for business administration degree : 8.6+ 3,6= 12.20/14
Still having doubts?
Don't worry, we'll gladly solve them for you. Contact us!!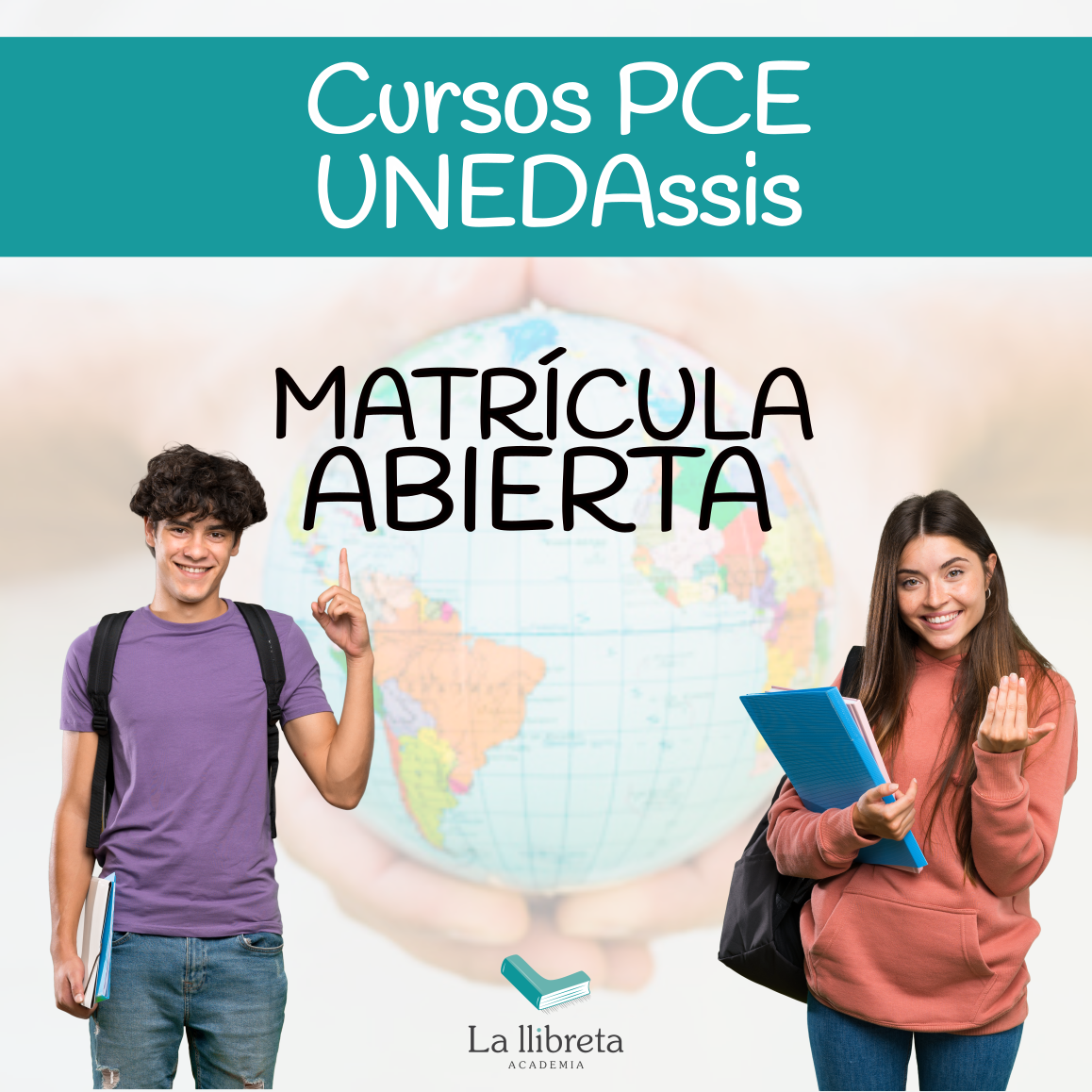 Links with updated information
Most of our students find writing essays the most difficult part of an English exam. Follow this list of tips to learn how to successfully and confidently write your essay. 1. Manage your time effectively. You should spend: Planning - 10 minutes Writing - 30 minutes...
We give you 6 good reasons to come to Valencia to study.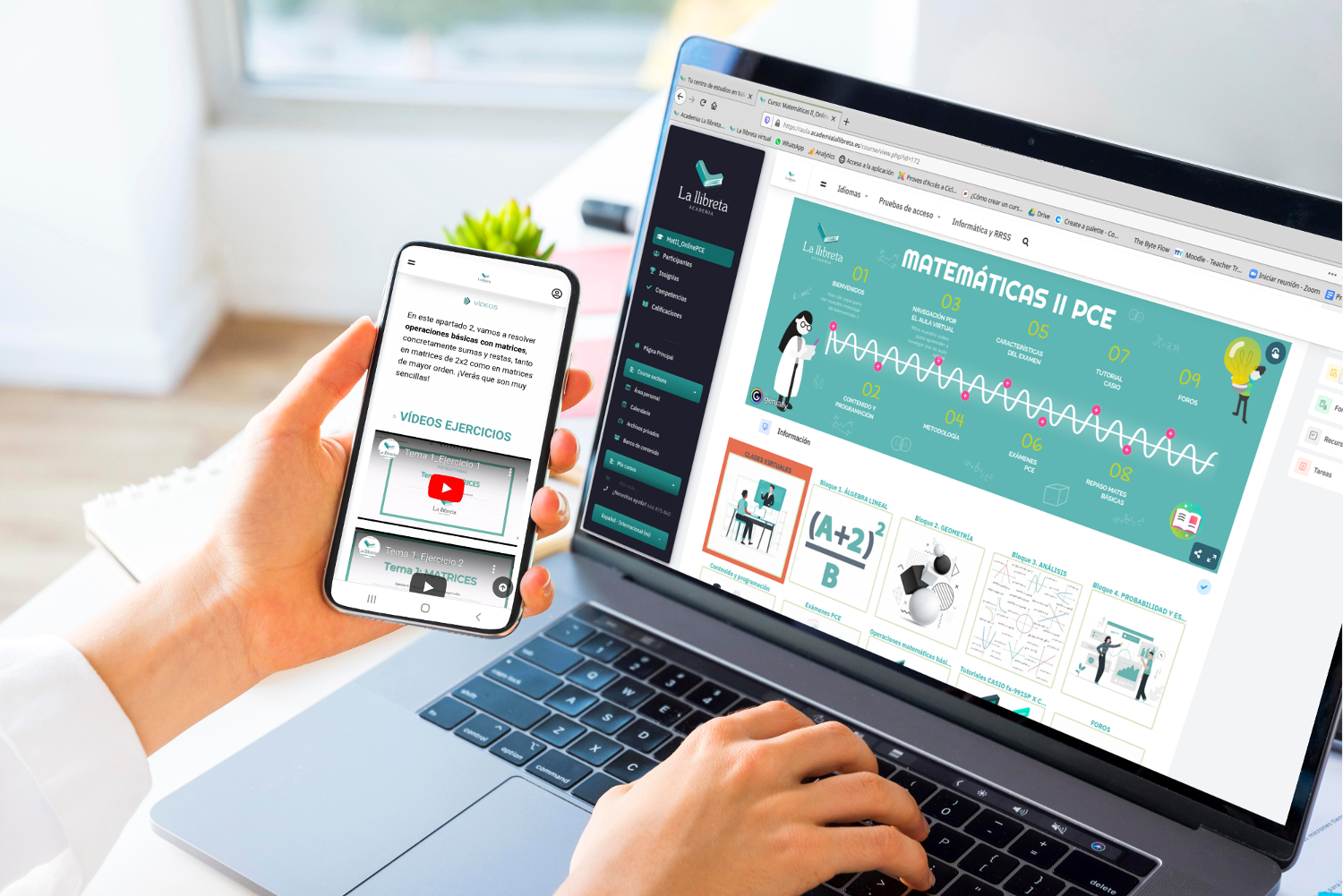 ONLINE PCE course
Study at your own pace with our self-study online courses.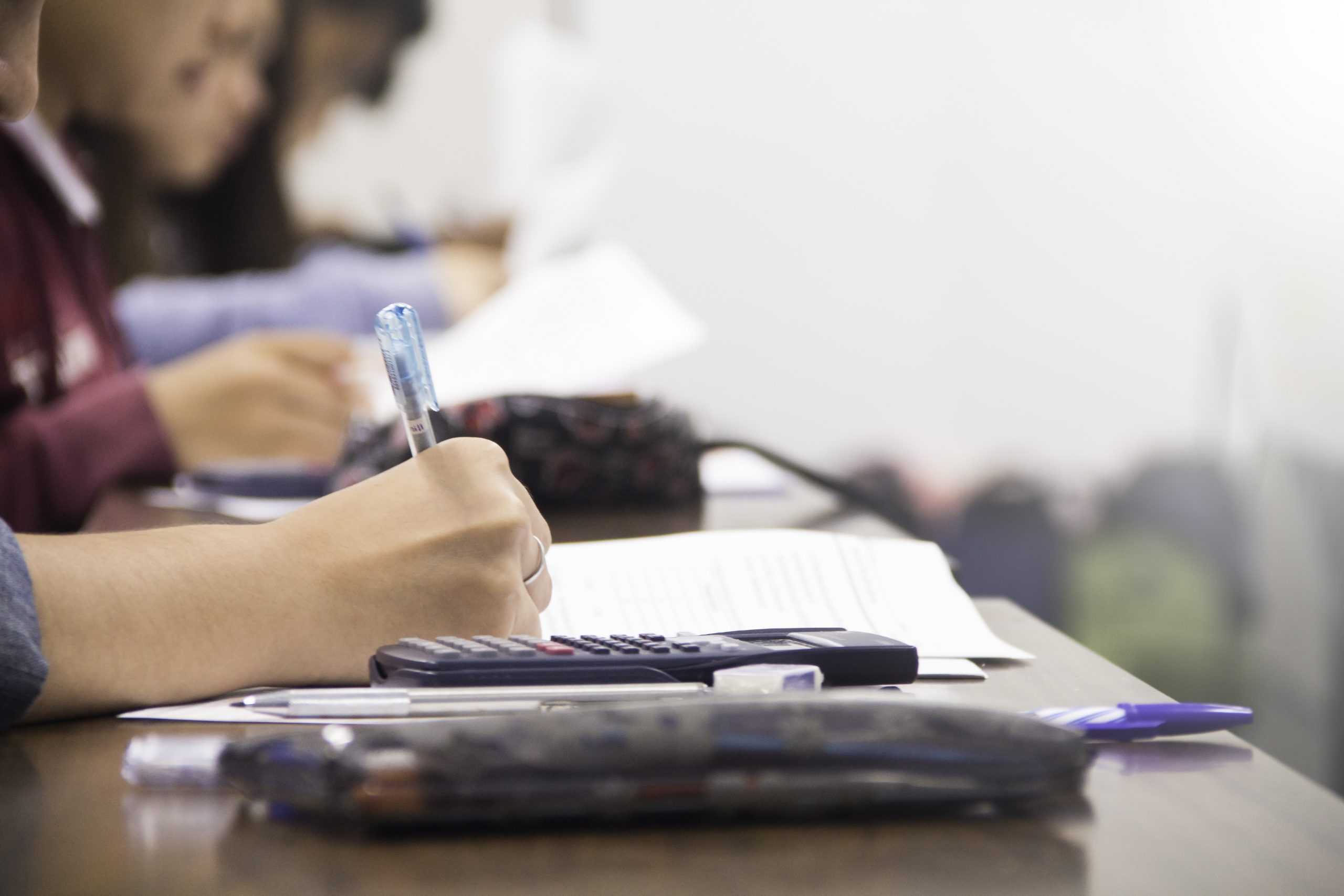 PCE course (may call)
Classes from October to May.
B1 Spanish level required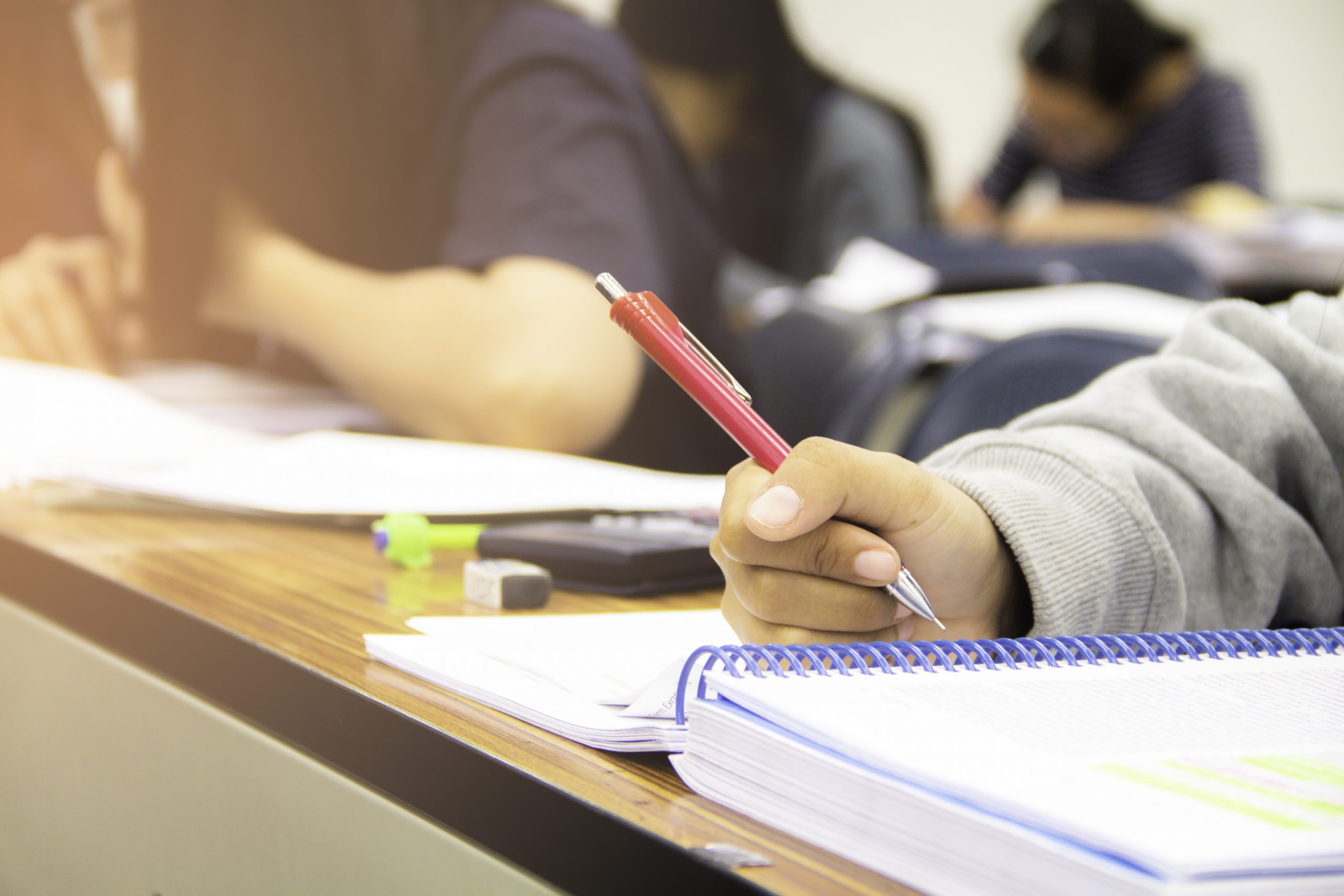 PCE intensive course (may call)
Classes from January to May.
B1 Spanish level required.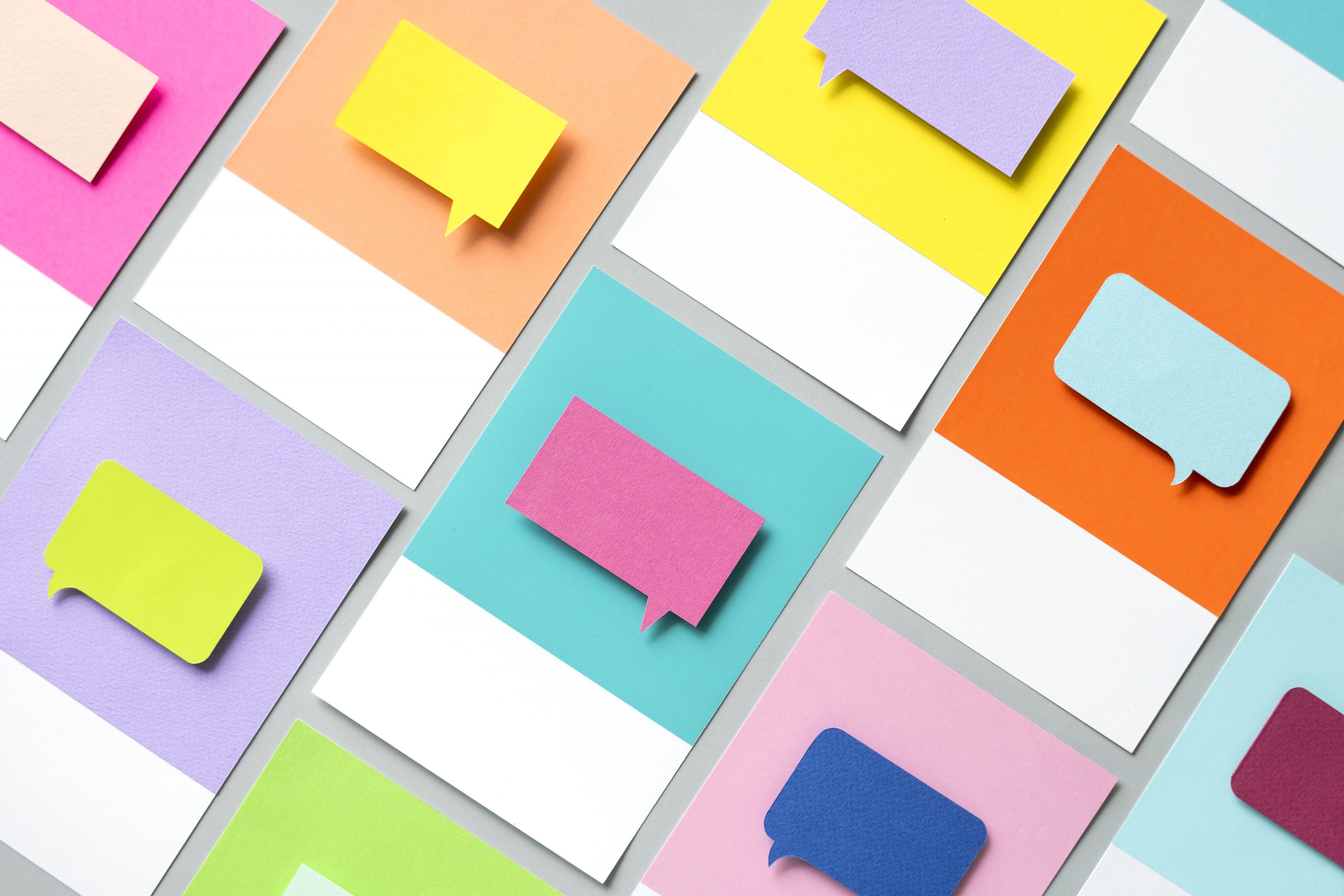 SPANISH + PCE
Classes from Agoust to May
For students who do not have a good level of Spanish