PCE: Specific Competency Exams
GET INTO A SPANISH UNIVERSITY!
If you are from outside of Spain and want to enter the University here you will have to pass the entrance tests to the university carried out by the Unedassis: the so-called PCE (Specific Competency Exams). We help you through the whole process. You'll be glad you chose us!
We inform you about the registration process and requirements to access the University in Spain.
We help you choose the subjects according to the degree you want to enroll in.
Do you need a student visa or approve your university degree? In both cases, we will help you get it.
We offer face to face classes for students who live in Valencia. Our virtual classroom acces is included in the price.
Study from anywhere in the world with our online courses and individualized tutoring via skype.
If you need to improve your Spanish we offer intensive courses so that the language is not an inconvenience.
Qualified and experienced teachers. We are familiar with the exam and we know how to explain it to you.
What are the PCE? (Specific Competency Exams)
The Specific Competency exams (PCE) are exams carried out by UNEDassis for foreign students who want to study in a Spanish University.
UNED subjects offer
You have to choose from 4 to 6 subjects from the following list – depending on the University you want to study in. We recommend you to choose four.
It is advisable to choose those subjects which weigh 0.2 (See the weighting chart).
Frequently asked questions
What Specific Competency Exams are (PCE), what the UNEDassis accreditation is, the exam structure, how to obtain a visa, the Spanish university access, and more. If you still have doubts, contact us.
For those students whose Spanish level is lower than B2 we recommend a Spanish course + PCE course. They are academic courses that last from September to June and are divided into two blocks:
Spanish course from September to December. It consists of 20 weekly sessions.
PCE course (Specific Competency course)  from January to May. You will study the 4 subjects of your choice and we will prepare you thoroughly for the exams.
If you already have a good level of Spanish you may be more interested in PCE courses without Spanish lessons.
Spanish course (20 weekly lessons) + PCE
Calendar
Intensive Spanish Course from September to December
Intensive PCE course from January to May
Price
It may change depending on the number of subjects you take.
If your Spanish level is good, in our School we
offer face-to-face courses and online courses
(in case you can't come to Spain).
We have a very complete  VIRTUAL CLASSROOM that contains updated theory, explanatory videos, exams with keys and a multitude of typical exercises to practice. In addition, there is a forum for you to be in contact with your teachers and classmates. If you want you can hire private classes via skype.
Calendar
Start whenever you want
Price
It may change depending on the number of subjects you take.
Calendar
From October to May
Price
It may depend on the number of subjects you take
PCE intensive course
May call
Calendar
From January to May
Price
It may depend on the number of subjects you take
PCE intensive course
September call
Calendar
From June to September
Price
It may depend on the number of subjects you take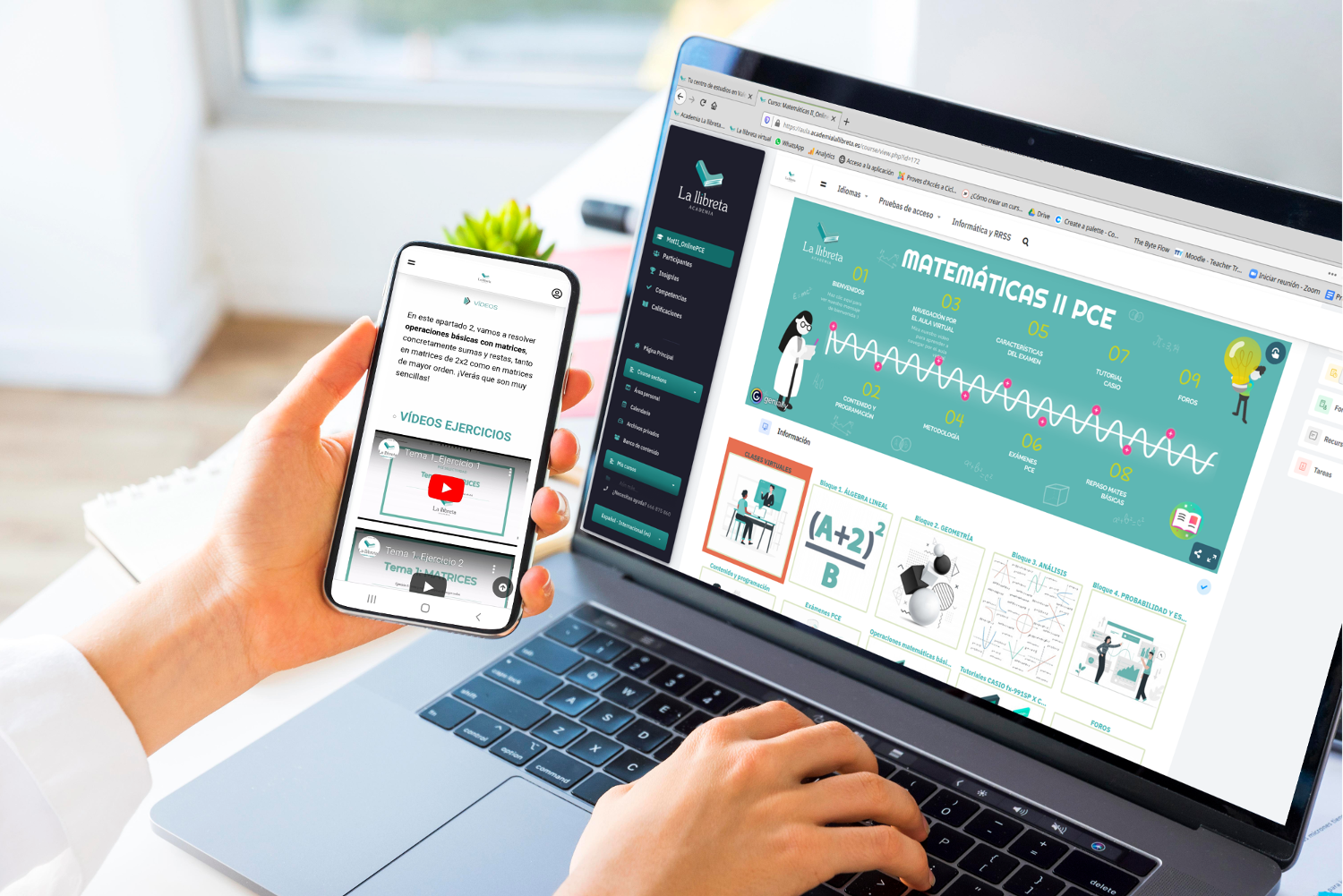 The virtual classroom is a website in which you will find all the theory of the course, as well as explanatory videos, previous exams with keys and a variety of resources for you to continue learning from home. It also has a forum for questions so that you can be in contact with your teacher.
We are a Collaborating Center with UNED
We have been successfully preparing students for the PCE for years and since January 2020 we have been a
Collaborating Centre with UNED.
. We make the necessary arrangements for obtaining accreditations for international students so that they can apply for admission to Spanish universities.
The UNED is committed to La llibreta and therefore the Llibreta with its students to:
Provide information on the admission  policies and requirements of undergraduate studies in Spanish universities.
Manage and report on administrative procedures.
Inform about the results obtained in the PCE exams.
To report on any changes in  admission policies and requirements to Spanish universities, as well as the examination models, programmes, contents, examination dates, etc.
The  possibility of contacting the teacher staff who prepare and evaluate the tests in a timely manner.
Advice in case of complaints or reviews.
In addition:
We have been assigned a manager of the UNED responsible for the reception and verification of documentation, as well as the follow-up of our students and attention in any incidents that  may arise.
La  Llibreta takes part in a briefing on the most important news at the beginning of the school year as well as in subject-specific meetings.
We are happy to answer any of your questions
Contact us with any questions you may have either by phone, email or by filling out the contact form. If you want, you can even come and visit us.
Find us
Calle Botánico 9, bajo. 46008. Valencia
Contact us
info@academialallibreta.es
Call us
0034 96 006 99 34 ó 666 875 860
Office hours
From Monday to Thursday from 9:00 AM to 01:00PM and from 4:00 PM to 08:00 PM. Friday only mornings.